Los Angeles US Tour @ Ebell Wilshire on July, 23rd 2022.
My first Kpop Experience with Brave Girls - LA
PART 1
On Saturday, July 23rd I got to enjoy my first Kpop experience, seeing one of my favorite girl groups Brave Girls ("BG") perform live in a packed house @ the Ebell Wilshire Theatre in Los Angeles. It was the culmination of a 6 months journey that began for me this past February in the most unlikely way. Let me explain:
During my weekly 
Gold Street
 marketing meeting with my assistant Catherine, we discussed the pros/cons of TikTok and Instagram's new Video Reels, so I decided to check them out. While I had an IG account I wasn't really active on it but had posted a few pictures & videos of my daughter's award-winning In-Sync 
Show Choir
 and the IG algorithm decided to show me a bunch of Kpop female group content, mostly Black Pink for some reason - maybe because my daughter is ⅛ Japanese & looks Asian.  Having spent a lot of my earlier life pursuing a 
music career
 as a songwriter/producer I decided to check out their music on YouTube and watched a bunch of music videos & live concert performances. Next thing you know - I'm Hooked! And it was not just the music that got my attention but the amazing choreography, high production values, and sheer amount of video views (10's to 100's Millions) were staggering; Why haven't I heard of these guys before? IDK. Then the YouTube algorithm did its' thing and up in my cue popped a video thumbnail for another female Kpop group - Brave Girls, and with a click of a button, everything changed.
Little did I know that I was watching a 
video
 that had gone viral produced by a fan of Brave Girls performing for a very enthusiastic 
Korean Military
, with quotes from current & former soldiers about how Brave Girls' song Rollin' had impacted them. (* Kudos to BG for performing over 100 of these low-pay Gigs to support the people responsible for protecting their freedoms) More videos popped up incl. High Heels (also performed for the military). Both songs were very catchy Pop tunes, the girls were certainly cute and their routines pretty sassy, without the in-your-face overt sexuality we see in too many female artists here in the U.S.  
After watching a few more performances a video popped up called The Greatest Underdogs in Kpop History: A Story of Brave Girls - telling the Girl's heartwarming story of one of the greatest 
comebacks
. It turns out the group had been formed around 2010-11 and gone through various iterations without any major success. The current line-up was solidified in 2015 and the song Rollin' had originally been released in 2017 with a sexy visual concept but had not been a hit for some reason. Fast-forward to early 2021 and Brave Girls found themselves on the verge of disbandment, with several of the girls having moved out of their dorms and contemplating their next steps. 
Brave Girls "visual" Yujeong is quoted as saying; "nothing we do will work out, because nothing the four of us have done has worked out so far". 
This line resonated with me as I know the feeling of failing, of trying so hard and doing your best work but nothing really happening; You feel like you're wasting your life & question why you're doing what you're doing, and if it's time to call it quits and try something else. I'm sure most people can relate to this feeling at one time or another and hearing this made me really want to root for them because they had persevered through so much and hadn't given up.
(Part 2) Brave Girls LA Showtime!
It's show day! After working out, getting cleaned up & dressed it was time to make the 35min. drive from Burbank to the quaint old Ebell Wilshire in Los Angeles. I wanted to get there early to avoid traffic and make sure I got a good parking spot, check-in, drop off my autographed poster & photoset, and relax before making the line in my ticket purchase order. There was ample parking in the adjacent lot and after changing into an artsy orange Australian aboriginal design T-shirt to stay cool I picked up my VVIP badge and BG goodies packet and sat in the back of my Jeep to kill some time. There I met Raul a Kpop fan who has just ridden a couple of hours on his motorbike for the show. Raul was also a big Twice fan, so much so that he had traveled across the county and attended 4 shows. We talked for about an hour and a half about our favorite artists & "bias", songs, and upcoming tours for acts like 
Sunmi
, 
Itzy
, etc., before it was time to make the line that stretched all around the building. I was pleasantly surprised to see a very even and mixed crowd of males & females of all ages & nationalities. Sure, there were more Koreans there than any other race but everyone I spoke to was very cordial and StudioPAV volunteers did a good job getting people placed in line based on their ticket order-of-purchase cue number before doors were opened and we ran to choose our seats. The Ebell can seat over 1200 people, with about 855 on the lower Orchestra level and another 168+ on the Loge/Balcony which was opened for this show. I was able to get an aisle seat about 7 rows back and my friend Raul was 1-2 rows behind me on the aisle stage left. Brave Girls music was playing aloud and as the crowd filled in both the lower and upper seating sections the audience's anticipation & excitement grew as we approached the scheduled 7 pm. showtime!
An introduction video played on a giant screen that would provide a colorful backdrop throughout the show. And to rambunctious applause the girls took the stage to perform their opening set, kicking off with their last single 
Thank You
 & 
We Ride
 (my personal fav. BG song), before taking some time to introduce themselves and thank everyone for their support. The girls had saved the best for last - or maybe just grown in confidence & got better as their US Tour progressed - and looked & sounded amazing! And despite the masks, the crowd was quite vocal - as they stood in their seats cheering and singing along with phones held high to capture the 
highlights
. My new friend Raul was definitely the loudest guy in the room (bar none). I was a little more reserved trying to conserve energy and get through the show "masked". 
Feeding off the crowd Brave Girls gave a great tour finale performance with electric energy; from Raul's fav. Yuna - smiling & gliding across the stage effortlessly like a fairy princess in a very cute black outfit; to Eunji's poised and stylish performances with her long brown-red hair flowing and skin glowing in her black shorts & top accented with a long scarf; to Minyoung showing off her vocal pro-es as one of the best (& in my opinion - underrated) lead vocalists in Kpop strutting the stage as a "blonde diva" in a form-fitting black-&-white polka-dot dress that really accentuated her lovely figure. And then there was Yujeong,  a woman whose Squirtle-like  
smile
has captivated many hearts  (insert fluttering heart emoji)
 rapped
 & danced the night away. I tried to film all the girls but invariably found myself focussing on her while peaking over my phone to try and enjoy as much of the performances in real-time as I could. 
The girls went through their 1st set moving from their older mid-tempo 
Don't Meet
 & 
Do You Know
 to the newer upbeat disco-influenced 
Love Is Gone
 & 
Fever
 (with Yujeong's "fabulous" rap) from their last 2 mini-albums, and then Whatever - before taking a breather to do some Tour Q&A's. In a funny moment, Yujeong & Minyoung were asked about what kind of show concept they would like to do for U.S. audiences in the future and answered that they seem to want "
sexy
". And indeed, there are louder cheers when the girls do something "sexier" on-stage like in 
Hi Heels
 than their regular "sassy" moves. Still, I think they do a pretty good job of keeping things classy & understated while injecting just enough "sassy" dance moves to keep those who came for that happy, which I appreciate being a little more on the conservative side. YMMV.
The 2nd half of the BG show kicked off with the Reggae rhythms of 
Easily
 to one of my newfound favorites 
Help Me
 with its adorable "I'll give you everything" line & choreography, before the "sexy" crowd-pleasing 
Hi Heels
 with its iconic - "I'm a sassy girl, I'm a tough girl, I'm a pretty girl, I'm a foxy girl" lyrics & dance moves. The Summer Queens then let down for the dance-party grooves of 
Chi Mat Ba Ram
 & 
Pool Party
 and The Ebell was absolutely rockin' as fans sang along in their seats making their best hand-gesture "moves", as we all grooved to Brave Sound's infectious beats & melodies. I hadn't had this much fun in ages and it looked like the girls were "having a good good time - with a big smile" - enjoying it as much as we did.  And then the song that started it all and everyone had waited for - 
Rollin
'. It was amazing to watch as we call sang "Ro-Ro-Rollin -  hey, Ro-Ro-Rollin -  hey" along with our Beautiful, Resilient, Adorable, Victorious & Entertaining Brave Girls, in a beautiful unison that epitomizes the special relationship with K-pop Artists and their Fans, a relationship of one-ness.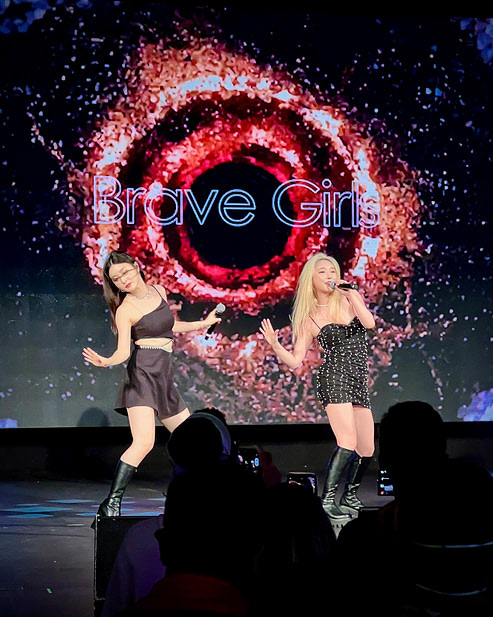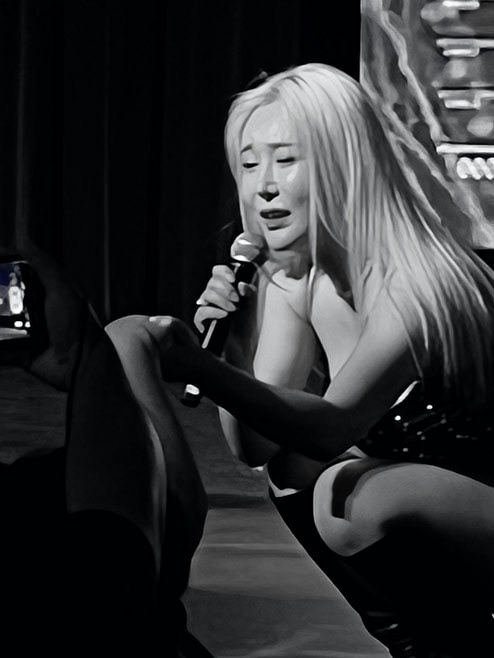 And before we knew it the girls who must have burnt thousands of calories sweating up a storm as they heated up the room were about to enter their 3 song encore. But before doing so, they took some time to share some final thoughts & feelings while catching their breath. In a beautifully poignant moment, lead singer Minyoung was overcome by 
emotions
 and she reminded people of how they were on the verge of breaking. And as she looked out at a packed house of (paying) fans, she had to turn her back for a few moments to compose herself. I can only imagine how she felt looking out and seeing a room packed full of appreciative US fans, many of whom can't speak a lick of Korean like me, showering them with so much love & support - even with masks on for almost 2hrs! 
Then after exiting the stage to loud chants of "encore", the girls returned to perform their final set including Whistle ("you make me feel like a queen") from 
Queendom 2
, the triumphant Red Sun ("I won't give up, I will always get up"), and the finale 
Summer by Myself
, where the girls take selfie videos on-stage with the phones of select patrons lucky enough to be front-row - a nice personal touch. But before we made our way outside to head home, there was one final highlight - the Hi-Touch "experience", where VVIP ticket holders got to Hi-Five all the girls and try and say something short & sweet as we made our way out of the auditorium. I absolutely love this but it was over all too quickly. I don't remember exactly what I said, but it went something like this: 
Eunji - Thank You & Happy Birthday.
Yuna - Thank You! And I love the long(er) hair (gesturing). 
Minyong - You sang your heart out tonite. 
Yujeong - You're a Star! 
I had planned on saying something else to Yujeong  - how I love her smile & spirit -  but that would have taken too long, It was fitting that "Squirtle"  was last in the line & great final memory for me to end a beautiful night @ my first Kpop experience. I'm hoping & praying the girls will come back soon for an encore performance, hopefully without masks so they can see the joy & smiles on our faces as we sing along, and with a fan-sign & snapshot option, along with some merch. we can buy to show our support. And maybe it's time to take a leaf out of the JYP "globalization thru localization" playbook and record a few all-English songs to really break out here in the US. Maybe even English versions of songs like We Ride, Pool Party, Help Me (
updated
), and dare I say - Rollin'? (performed before a joint US-Korean Military crowd). In the meantime, I'm inspired to be more #brave & #fearless in my Life & Business as I was in my mid-20's when I made my first of 4 annual trips to the US for the New Music Seminar in New York, before moving there permanently in 1992 to pursue my dreams. And for that, I say "THANK YOU" - Brave Girls! 
Brave Girls L.A. YouTube Videos playlist